Sale!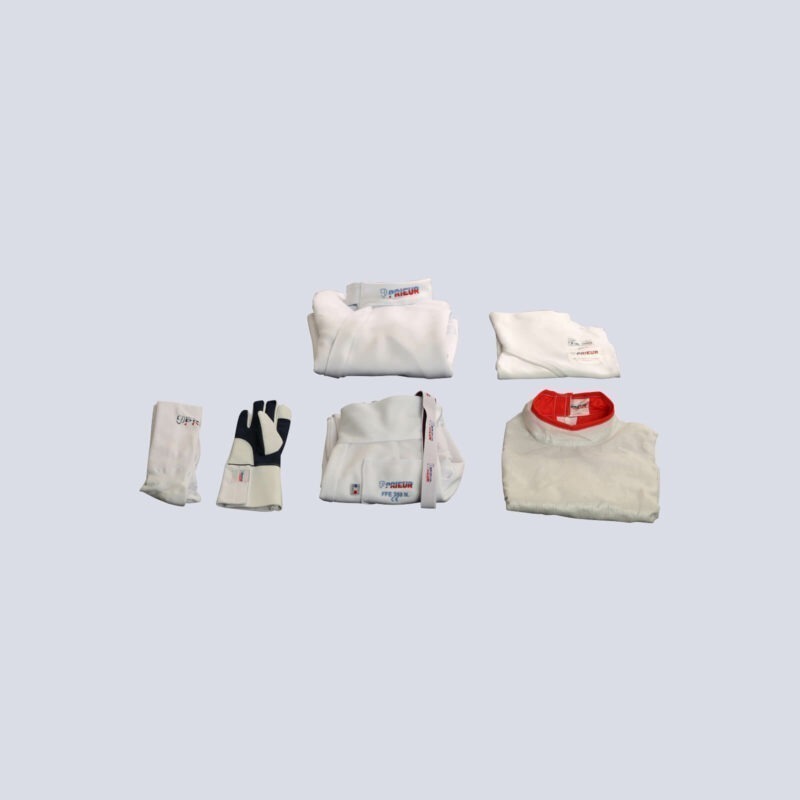 children's foil kit over 11 years
In the kit foil child over 11 years you will find :
– The jacket fencing child 3 weapons 350N (ref 1625)
– The child's 3 weapons fencing pants350N (ref 1635)
– Epee and foil glove (ref 1035)
– Fine mesh fencing socks (ref 3260)
– The ambidextrous 800N child protection cuirass (ref 1865)
– Child electric foil cuirass (ref 1796)
In stock
Description
Our 350N 3 weapons fencing jacket and pants (FFE certified) included in the children's foil kit (+11 years) are perfectly suited to fencing in clubs or during national competitions. The French fabric of our children's fencing clothing 350N 3 weapons is composed of 100% polyester mesh providing elasticity, flexibility and resistance to perforation.
Since its development, our 350N fabric has undergone 410 puncture tests to ensure the monitoring, performance, and seriousness necessary to guarantee your safety. Our 350N fabric, like all our other fabrics, is treated with a high quality UHT Flash (Ultra High Temperature Thermal Flash) to achieve optimal dye quality and greater dimensional stability when washed.
Perfect for foil and epee practice. Our coloured foil and epee glove included in the children's foil kit (+11 years), made of imitation leather, is a perfect value for money for weekly use in training and competitions.
Our very soft colored epee and foil glove is padded on the back of the hand for extra comfort and protection.
Our fine mesh fencing socks PRIEUR SPORTS fit perfectly on the leg above the knee. They are fully suitable for foil and saber practice.
Our 800N ambidextrous PRIEUR SPORTS child protection cuirass (FIE certified) is perfectly suited for club fencing and is mandatory during competitions from the M13 category in France and abroad.
We select our fabrics and components with the greatest care to offer you the most elaborate 800N ambidextrous PRIEUR SPORTS child protection cuirass on the market. The closure in the back allows a right or left handed use, which is very practical for clubs that lend or rent this equipment.
Our PRIEUR SPORTS child electric foil cuirass is required for all foil competitions.
The fabric of our PRIEUR SPORTS child electric sword armor is made of 65% polyester with the characteristics of being very elastic, flexible and resistant to perforation and 35% of stainless steel nickel wire. The lining is made of 100% tearproof polyamide.
Our expert advice :
In order not to reduce the performance of your jacket, pants, socks, protective cuirass and electric cuirass, they should not be washed at more than 30°C. Do not use chlorine or tumble dryers.
To increase the life of your coloured epee and foil glove, we advise you to take it out of your fencing bag after training and let it air dry.
Good to know :
To find out your ideal size, please consult our size guide.
Specifications
| | |
| --- | --- |
| Weight | 4,1 kg |
| Dimensions | 34 × 33 × 18 cm |