Sale!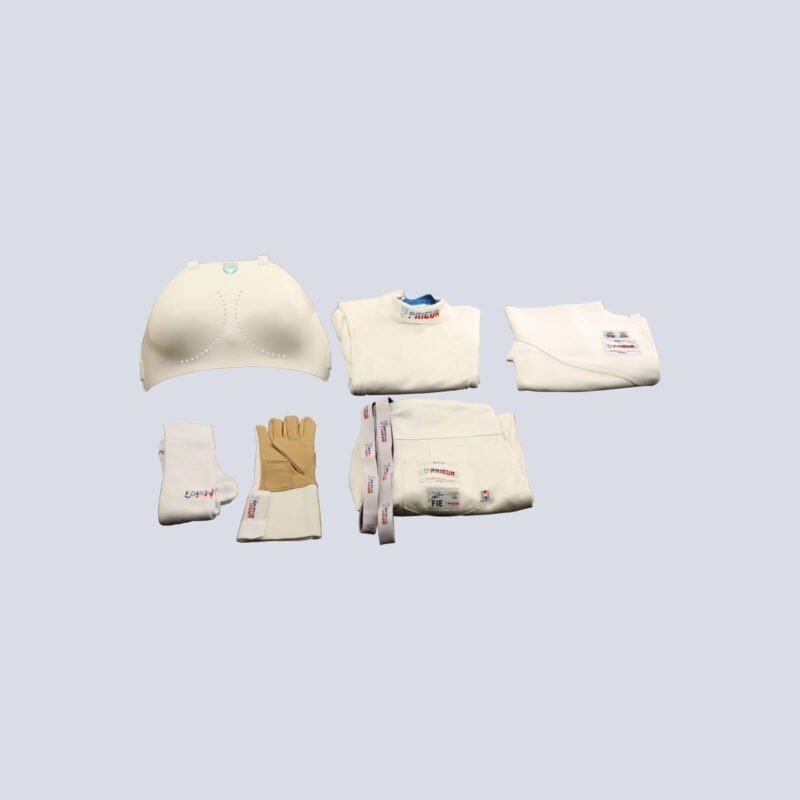 women's sword kit 800N SL
In the women's epee kit 800N SL you will find :
– The jacket fencing woman 800N SL 3 weapons (ref 1982)
– The fencing pants for woman 800N SL 3 weapons (ref 1992)
– The leather glove 350N foil and epee (ref 1060)
– Fencing socks with buckles (ref 3265)
– Women's bustier with straps (ref 2784)
– Mixed adult protective cuirass 800N (ref 1885)
In stock
Description
Our women's 800N SL (super light) 3 weapon fencing jacket and pants (FIE certified) included in the women's 800N SL epee kit are perfectly suited for fencing in clubs or competitions around the world.
As passionate fencers, we have been constantly developing our fencing clothes for years so that they stand the test of time while providing you with maximum comfort and safety.
The 100% French fabric of our 800N SL women's fencing jacket and pants is made up of 70% polyethylene mesh (Dyneema® fibres), which are the most resistant fibres in the world while being very light. In addition, their unparalleled softness and flexibility will offer you excellent freedom of movement. Polyester (30%) provides elasticity, flexibility and puncture resistance.
For more information on our SL range, please click here
Our leather glove 350N foil and epee PRIEUR SPORTS included in the women's epee kit 800N SL is a must. . Its unmatched softness and comfort will ensure maximum performance. It is without a doubt the best glove on the on the market! Our 350N leather foil and sword glove is very supple and is padded on the back of the hand with 350N fabric for extra comfort and protection.
Our PRIEUR SPORTS fencing buckles socks fit the leg perfectly above the knee. They are fully suitable for fencing.
Entirely handmade in our workshop in Burgundy, our 800N PRIEUR SPORTS adult protective cuirass is designed to provide you with the best safety and comfort. Its use is mandatory.
Our women's bustier with straps is a high quality, rigid product, made with low density polyethylene that absorbs impact but is shaped to fit the curves perfectly.
Our expert advice :
In order not to reduce the performance of your jacket, pants, socks and protective cuirass, they should not be washed at more than 30°C. Do not use chlorine or tumble dryers.
To increase the life of your 350N foil and epee leather glove, we advise you to take it out of your fencing bag after training and let it air dry.
Good to know :
To find out your ideal size, please consult our size guide.
Specifications
| | |
| --- | --- |
| Weight | 9,5 kg |
| Dimensions | 59 × 40 × 20 cm |