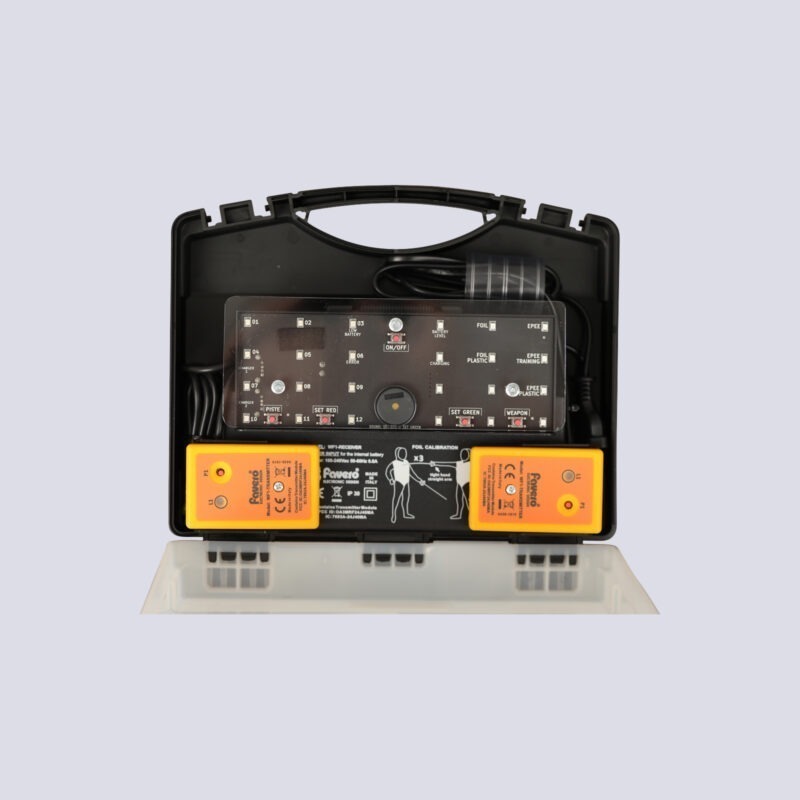 Wireless device WF1
630,00€
The Wireless Fencing 1 device allows you to signal hits in fencing during epee and/or foil training. evices
No need to mount/dismount reels, cables and power devices.
In stock
Description
The signalling of the hits is in accordance with the times established by the FIE standards. However, the equipment is not suitable for competitions.
The use is immediate and does not require special clothing, the usual fencing clothes and equipment are sufficient.
Works with rechargeable batteries with an average autonomy of 45 hours.
5 operating modes:
– Epee
– Foil
– Epee training": signalling of the hits made in quick succession with the epee
– Epee plastic": for plastic epees with electrical connection
– Foil plastic: for plastic foils with electrical connection
Total dimensions of the case: 265 x 210 x 70 mm
Total weight of the case : 2,0 kg
Dimensions of each TRANSMITTER : 76 x 48 x 17 mm
Weight of each TRANSMITTER : 54 g
Specifications
| | |
| --- | --- |
| Weight | 2,7 kg |
| Dimensions | 34 × 25 × 11 cm |